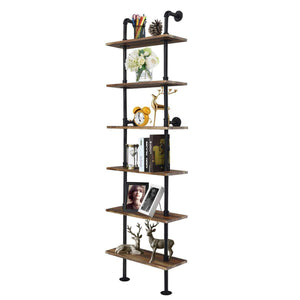 Brand: Giantex
Color: Wood Grain
Features:
【Multiple Place Use】This wall shelf has a unique water pipe design, is chic and artistic, especially suitable for industrial retro style. It is a charming decoration and can be combined with the fitment style of the home and placed in many venues like bars, coffee shops, home kitchens, living rooms, bathrooms and any other where you want to install.
【Hanging On the Wall to Create Storage Space】This shelf hanging on the wall, will not occupy much place of the home. On the contrary, it will create more storage space for you to help you better organize. Moreover, the metal round tube is fixed on the wall, which enhances the stability and firmness.
【Good Load Capacity & Long Years Usage】Made of 1.5-inch-thick panel, which ensures that it has a good load-bearing capacity. It is sturdy enough to hold up a lot of things you need. The material is waterproof and moth-proof. It is very durable and you don't have to worry about it cracking easily.
【Open Storage Design for Convenient Fetch】This shelf designed with open storage space, ensures you can take things straightly without hurting hands. It can be used as a kitchen rack to place oil and salt sauce cans, as a bookshelf in the living room or in the bathroom for changing clothes.
【Easy to Assemble and Clean】Complete hardware and installation instruction are included. Specific assembly steps are shown in graphic and text form which is easily understood. You won't get stuck with the hard assembly jobs for the wall shelf. Besides, you can clean it easily just wipe with a soft dry cloth to get rid of the dust and grime.
Publisher: Giantex
Details:
Description
Our wall mount shelf is unique in shape and is especially suitable for industrial retro-decorated homes. It doesn't take up too much space because it can be hung on the wall and can help you organize your room. You can put it in the living room, kitchen, bathroom, bedroom, coffee shop, etc. You can store books, photos, potted plants, toiletries, etc. Moreover, its MDF is very thick and has a good load-bearing capacity. The metal round tube is fixed on the wall and has good stability and is not easy to fall off. In addition, the assembly is also very easy. Don't hesitate, come buy one!
Features:
High-quality MDF board and metal circular tube make it sturdy and stable.
1.5'' thickness board guarantees good load-bearing capacity.
Versatile use, such as tool shelf in kitchen or display rack in living room.
  Unique design with industrial style is very attractive and charming.
The open storage space is convenient for picking up objects.
Large storage space, can put a lot of things, such as potted plants, photos etc.
There is a metal disc (with screws) fixed to the wall, so it is stable and not easy to fall off.
Simple assemble need and easy to clean, saving your time and energy.
Specifications:
Material: MDF board, metal pipe frame 
Color: Wood Grain 
Product Dimensions: 24''x 10'' x 82.5" (L x W x H) 
Package size: 27.5''x 17'' x 12.5" (L x W x H) 
Net Weight: 42.5 lbs
Height between shelves: 12" without adjustable
Board Dimension:24''x 10'' x 1.5" (L x W x H) 
Wight Capacity of Each shelf: 20 lbs
Diameter of Metal Disc: 2.5''
Package Includes: 
1 x 6-Tier Industrial Pipe Wall Shelf
1 x Instruction 

Package Dimensions: 27.5 x 17.0 x 12.5 inches